Advent Door 7: The Haunting of Aveline Jones
I am so sorry to have missed doors 5 and 6. At the weekend, I received my Moderna booster and of course I consider myself extremely lucky to be given this protection against Covid but it made me feel dreadful! Even worse than the aches and shivers though was the brain fog: I literally could not compose a post because I couldn't put my thoughts together. Tonight I am on the mend, but still a little hazy, so forgive any typos…
Anyway, onto my featured chiller – Phil Hickes' atmospheric The Haunting of Aveline Jones. I love a good, spooky read so anything that talks about a haunting has my attention. The story features Aveline Jones – an avid ghost-story reader – who has to spend the October half-term with her rather fierce aunt while her mother tends to her sick grandmother in Scotland. Aveline's aunt lives in Cornwall, in the gloomy, eerie seaside town of Malmouth. Spooky scarecrows line the streets and no one ventures out much into the inclement autumn weather. Aveline dreads to think what sort of a time she will have in this town – which has the air of a real ghost town!
Aveline soon discovers a secondhand bookshop and purchases a collection of ghost stories, myths and legends focusing on the South West, and featuring Malmouth. The book previously belonged to a girl called Primrose Penberthy and, when Aveline tries to find out who she was, she is shocked to discover that she suddenly disappeared almost thirty years ago to the day. She also finds that Primrose obliterated the last tale in the book so that no one would read it. Aveline, and a newfound friend Harold, decide to look into Primrose's mysterious disappearance and how it might be linked to the missing tale.
I read this in an afternoon and really enjoyed it. It's quite rare to find a genuinely scary book for middle-grade readers because there's a fine line to tread between being thrilling and terrifying. I think this book strikes that balance well – there were aspects that I found very creepy indeed but I felt they were manageable for readers aged nine and above.  Adults will also enjoy this if they like a well-told story with plenty of unease, twists and turns.
Advent Door 4: The Blue Lenses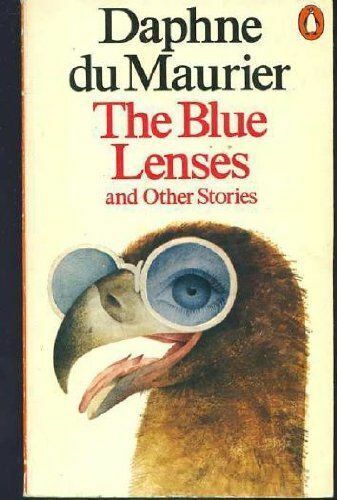 A couple of months ago, I listened to a short story called The Blue Lenses, written by Daphne du Maurier, which was broadcast on BBC Sounds. I knew that it would be strange – most of du Maurier's short stories and novels are. But this goes beyond anything I've read by her to date, even The Birds and Jamaica Inn.
The plot of the story is this: Marda West is recovering from eye surgery for a condition we are not given any details about. She has been given lenses that will help her see again but, until the bandages can come off, she has to experience the hospital through her other senses. She strikes up a particularly close friendship with the night nurse, Nurse Ansel, whom she asks to help her recuperate at home when she leaves the hospital.
So far, so good. But when Marda finally opens her eyes, things are not as she expected. Rather than seeing human faces, the people surrounding her have animal heads – and they aren't pleasant visions, particularly Nurse Ansel – who has the head of a snake – and her husband, whose vulture head has a blood-soaked beak. Marda is understandably distressed but doesn't tell those around her exactly what she is seeing – only that things aren't right. The staff reassure her that this is normal – that it takes time to adjust after being sightless for a while. While she is still discomfited, she soon she realises that her new lenses have granted her the ability to see people as they really are, metaphorically as well as realistically.
I can't say anything further without giving away the ending but this has to be one of the creepiest stories I have read. There's no gore, no blood, no supernatural threats. There is just the claustrophobic threat of the people around Marda who are supposed to be protecting her, but whom she sees as either stupid or evil. This is perhaps where the worst threat lies – not in a paranormal entity but in the living. And we experience this alongside Marda and somehow become her. It's clever and it's haunting and it's unsettling.
Advent Door 3: The Spirit Engineer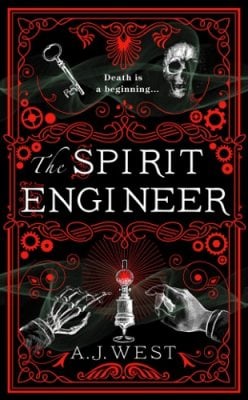 I feel a special affinity for those authors who were published on the same day as me, and so I am pleased to include A.J. West's debut novel The Spirit Engineer on Day 3 of the Spookvent Calendar – a mesmerising tale of science versus spirituality that is based on a true story.
In Belfast 1914, William Jackson Crawford is struggling to make ends meet while building a reputable career as an academic specialising in engineering. His wife, grief-stricken after the death of her brother and another personal tragedy, absconds in the evenings to celebrated medium Kathleen Goligher, to see if she can make contact with the dead. William discovers her secret and is pulled into a world of mesmerism – but is it all real or just a bunch of clever parlour tricks? The events are based on two of the main protagonists – Crawford and Goligher – and there are also cameo appearances from none other than Sir Arthur Conan Doyle and Harry Houdini. A.J. West cleverly plays with the reader's expectations throughout the novel – twisting from doubt and suspicion to wonderment and belief, as we follow Jackson's progression from beginning to end. Those familiar with the kind of seances popular in Victorian and Edwardian times will understand the settings of many a scene from the book and the added information about Jackson's scientific investigations into the paranormal provide interesting background to an area that is often doubted and maligned. However, Spookvent is all about the chills, and The Spirit Engineer provides this in spades, particularly towards the end, when I truly did gasp at the denouement. Clever, fascinating and twisty-turny, I dare you not to be intrigued by this book.
Advent Door 2: Uncanny, the Podcast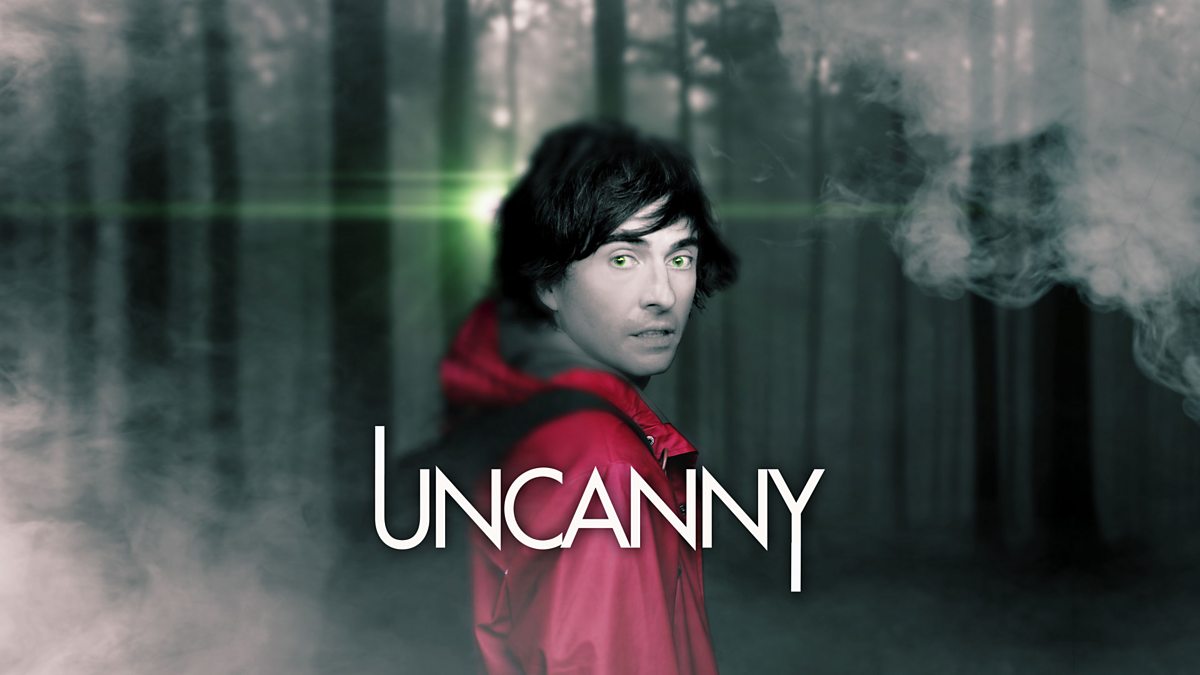 For my second Spookvent entry, I am excited to share this scary and fascinating BBC podcast with you. Uncanny takes a look at real-life paranormal encounters ranging from angry poltergeists to UFO sightings and even, this week, the apparent appearance of angels.
Danny Robins is the very likeable host, always treating each week's guest with the utmost respect. His expression, "Bloody Hell, Ken!" has become a Twitter handle after his understandable reaction to the terrifying story of a haunting that took place in Room 611 at a student's hall of residence at Queen's University, Belfast, related by the now famous 'Ken'. There have been two episodes devoted to the mystery behind this haunting since new revelations from other occupants of that unfortunate room have come forward.
What I love about the series is how each and every story is different. Danny Robins is always at pains to point out that the people he is interviewing are sensible, often sceptical about the paranormal, and certainly their accounts sound plausible. Robins then draws in paranormal experts and sceptics to try to suggest what is happening in each case. Sometimes phenomena might have environmental causes – sick building syndrome (or similar) – or psychological influences: if a person feels constantly ill at ease, it's unsurprising if they begin to experience hostile occurrences, though some of them feel too bizarre to have anything but a paranormal origin. Followers on the podcast and on Twitter are encouraged to share their thoughts on what is happening in each episode, and declare themselves #TeamSceptic or #TeamBeliever.
And my view on it all? Unsurprisingly, based on my fiction writing, I am more a #TeamBeliever, although at times I can see how there might be a rational explanation for some of the occurrences. However, I do think that there is something that exists out there, beyond our sphere of everyday sensing – an energy, a force, or something that we just cannot explain or quantify. I believe that buildings and structures hold energy, possibly from the living who visit or live in them. After all, have you ever experienced a person's 'vibe'? The energy they give off – happiness, anger, sadness, etc? Maybe this is what constitutes the soul, the indefinable 'being' or 'essence' of a person that can linger after their physical presence has left.
This is such an enjoyable series. I look forward to each new episode, every Wednesday. You can find the series website at: https://www.bbc.co.uk/programmes/m0010x7c and you can join in the discussion on Twitter under the hashtag #Uncanny and by following Danny Robins @danny_robins.
Over this Advent period, I am delighted to be sharing some of my top recommendations for books, films, podcasts and any other media that I may come across that provides a delicious chill during these colder, darker days. After all, Christmas is as much associated with ghosts and the supernatural as Hallowe'en. Why this should be so, when the holiday is meant to celebrate the birth of Jesus Christ, may seem unclear, but, according to Sally O'Reilly, Lecturer in Creative Writing at the Open University: "Our fascination with ghostly tales around Christmas time goes back thousands of years and is rooted in ancient celebrations of the winter solstice. In the depths of winter, pagan traditions included a belief in a ghostly procession across the sky, known as the Wild Hunt. Recounting tales of heroism and monstrous and supernatural beings became a midwinter tradition. Dark tales were deployed to entertain on dark nights." (You can read more here.)
So, without further ado, here is my recommendation for Day 1's reading: the brilliant, unsettling and terrifying Dark Matter, by Michelle Paver.
Advent Door 1.
Dark Matter, by Michelle Paver, published by Weidenfeld & Nicolson
As the prospect of war looms over Europe and London, 28-year-old Jack wants to escape from his poor existence in London and find friendship and companionship. This comes to him in the form of a scientific expedition to Svalbard, or Spitsbergen – an archipelago that sits halfway between the northernmost point of Norway and the North Pole. The group of five men and eight huskies set off during the continuous light of the Arctic summer and set up camp at the uninhabited bay of Gruhuken – their home for the next year. However, as the nights get longer and the weather more bitter, Jack's companions are forced to leave the base one by one, till there is only Jack and the huskies left … or is there? Something else lurks amongst the darkness and the frozen Arctic waters and it doesn't want company.
When the book was first published eleven years ago, I devoured it and I keep returning to it with equal enthusiasm. The setting is ideal for creating that all-important sense of unease that the best ghost stories should contain – an evil that is just out of sight, out of reach, but is definitely there. I admit, I am somewhat obsessed with the idea of the polar night, of endless darkness and the effect that that must, inevitably, have on the human mind, especially if the individual is socially as well as geographically cut off from anyone else. Michelle Paver controls the fear with such an adept hand that the novel still has the power to grip me even though I know what happens. My mother, on the other hand, was unable to proceed with reading this because she found the whole concept so utterly terrifying.
---
Can't find what you're looking for? Use the search form to search the site.
Get new content delivered directly to your inbox.