Over this Advent period, I am delighted to be sharing some of my top recommendations for books, films, podcasts and any other media that I may come across that provides a delicious chill. After all, Christmas is as much associated with ghosts and the supernatural as Hallowe'en. Why this should be so, when the holiday is meant to celebrate the birth of Jesus Christ, may seem unclear, but, according to Sally O'Reilly, Lecturer in Creative Writing at the Open University: "Our fascination with ghostly tales around Christmas time goes back thousands of years and is rooted in ancient celebrations of the winter solstice. In the depths of winter, pagan traditions included a belief in a ghostly procession across the sky, known as the Wild Hunt. Recounting tales of heroism and monstrous and supernatural beings became a midwinter tradition. Dark tales were deployed to entertain on dark nights."  
So, without further ado, here is my recommendation for Day 1's reading: the brilliant, unsettling and terrifying Dark Matter, by Michelle Paver.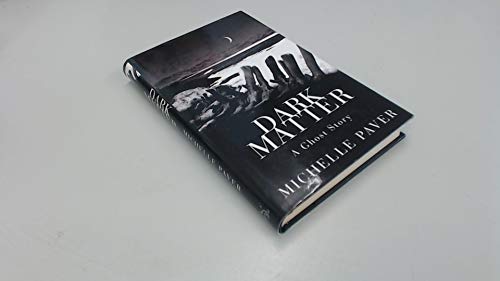 Dark Matter, by Michelle Paver, published by Weidenfeld & Nicolson
As the prospect of war looms over Europe and London, 28-year-old Jack wants to escape from his poor existence in London and find friendship and companionship. This comes to him in the form of a scientific expedition to Svalbard, or Spitsbergen – an archipelago that sits halfway between the northernmost point of Norway and the North Pole. The group of five men and eight huskies set off during the continuous light of the Arctic summer and set up camp at the uninhabited bay of Gruhuken – their home for the next year. However, as the nights get longer and the weather more bitter, Jack's companions are forced to leave the base one by one, till there is only Jack and the huskies left … or is there? Something else lurks amongst the darkness and the frozen Arctic waters and it doesn't want company.
When the book was first published eleven years ago, I devoured it and I keep returning to it with equal enthusiasm. The setting is ideal for creating that all-important sense of unease that the best ghost stories should contain – an evil that is just out of sight, out of reach, but is definitely there. I admit, I am somewhat obsessed with the idea of the polar night, of endless darkness and the effect that that must, inevitably, have on the human mind, especially if the individual is socially as well as geographically cut off from anyone else. Michelle Paver controls the fear with such an adept hand that the novel still has the power to grip me even though I know what happens. My mother, on the other hand, was unable to proceed with reading this because she found the whole concept so utterly terrifying.